Am. Import Hillhaven Journey For Keeps
May we introduce our newest addition? This is Maddie that we bought during our trip to the States and the ACDCA Specialty in Mount Vernon, USA. Maddie was not for sale, but we kept nagging her owner and are more than thankfull that she let her go to us. Maddie is a very special dog for us. Her pedigree combines the best working lines in the US with excellent show lines. I always wanted a dog out of these working lines and finally she is here. She is very self-confident, well behaved and calm. Not nervous or anything like that.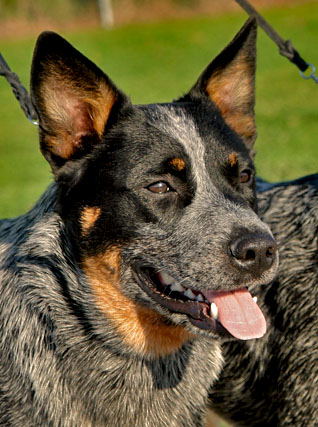 The children like her a lot as she is so extremely easy to handle and willing to please. Her working potential matches what I have experienced with Dusty kids and grandkids and that really means something. She also is very good looking and will surely finish easily in europe. Maddie is the youngest in our pack and after Paula taught her who's the boss she is very well integrated now. We have some high expectations for this young lady, so watch out for her in the ring.